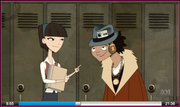 Tina: "Just follow my lead. You're working with the school news."
Camillio: "Rollin' with Ms Tina Bobbina. Big Times!"
Tina: "*Grabs Cam and throws him to the floor*"
Camillio: "Ooh!"
—Cam and Tina join forces (From Episode 4 Math Math Revolution)
This article features the relationship between
Camillio Esmereldo Martinez
And
Tina Kwee.
Overview
Edit
Cam and Tina seem to have a good friendship. Cam relies on Tina for her smarts and helping nature while Tina is willing to do anything for him in order to get an interview with Lee. On some occasions, Tina gets annoyed by Cam's silly antics.
Cam is aware of Lee's crush on Tina, teasing him sometimes and even calling Tina hot, though it is unknown if he really thought that about her. Even though for being her rival's Brandy boyfriend, Tina still accepts Cam as a friend and helps him wherever she can.
Episodes showing a Conflict
Edit
Episodes showing a Friendship
Edit
It is unknown if Cam knows about Tina's crush on Lee.
Cam often calls Tina "Bobbina".
Their relationship is slightly similar to the relationship of Howard Wienerman and Theresa Fowler from the Disney XD series "Randy Cunningham 9th grade Ninja"
In Enter the Serpent Tina hinted that she knowns about Cam's relationship with Brandy, stating that he is the guy Brandy likes so much.
In Math Math Revolution the two of them pretended to be a frustrated couple with family issues, referring to Romeo and Juliet (Lynch even calling them Cam-eo and Tina-et).
Community content is available under
CC-BY-SA
unless otherwise noted.