Hold up! I have small (ish) legs.
This article is short and lacking information. You can help Detentionairepedia by expanding it.

"Bro-o, Lee used to be a Mathlete and Irwin and him used to be the bestest friends back in the day (...) One day snug as Mexican bugs. The next, dastardly enemies!"
-Cam to Holger about Lee's and Erwin's past (From Math Math Revolution)}}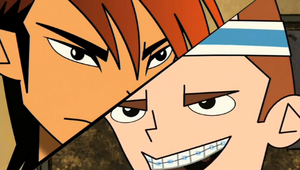 Lee and Irwin were best friends when Lee was a member of the Mathletes. For reasons unknown, their friendship ended and the two have become enemies.
Showing Friendship
Edit
Showing Conflict
Edit
References
Edit
Community content is available under
CC-BY-SA
unless otherwise noted.