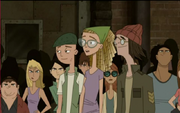 Suzie Elliot is a serious saviour of the environment and one of the three TreeHuggers. She first appeared as a background character in Dudes of Darkness, where she made a comment about how Cyrus quit the band. Later, she made her first, main appearance in Welcome to Factory Island, where she wore glasses throughout the episode, and revealed that she did the frog-part of the Prank. She is shown to be in Mrs. Rosenblue's third grade class along with many other students including Cam.
Hold up! I have small (ish) legs.
This article is short and lacking information. You can help Detentionairepedia by expanding it.

Community content is available under
CC-BY-SA
unless otherwise noted.